Make your concrete surfaces look like new again!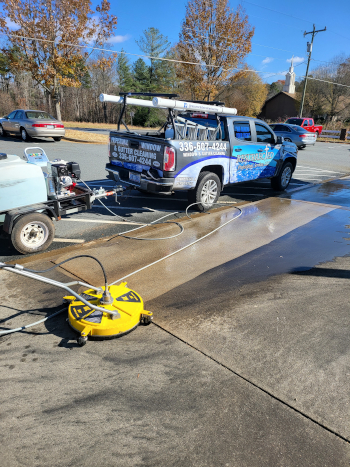 Chances are, there is a concrete surface somewhere on your property, whether in the form of a driveway, walkway, or patio. Concrete is an extremely durable material, and it is a great addition to nearly any outdoor space. While your concrete probably looked great right after it was installed, regular wear and tear and exposure to the elements can make it look stained, dirty, and rundown.
The good news is that you don't have to accept the way your concrete looks. With our professional concrete cleaning services, we can eliminate dirt and debris from your concrete surfaces and enhance your home's curb appeal by doing so. At Resurrected Professional Services, our concrete cleaning services are highly effective, and they're performed by professional, reliable, and friendly technicians.
How often should you have us clean your concrete? This depends on your home and your preferences. Some people have us come in for concrete cleaning once a year to give their home's exterior a refresh, while others schedule us to come every few months to clean their concrete. We're happy to come to your home in Clemmons, North Carolina whenever you need us to clean your concrete and enhance the cleanliness of your home's exterior surfaces.
We offer a 100% satisfaction guarantee, so if you're not happy with our work, let us know, and we'll make things right. For more information about our concrete cleaning services or to schedule a quote, reach out to us today.
---
Concrete Cleaning in Winston-Salem, NC