Let us help your home shine.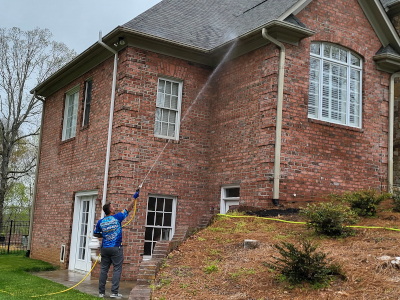 Many factors determine if you need house washing, such as the weather, where you live, and the materials your home is constructed from. Working with a professional house washing company, like our team at Resurrected Professional Services, can help you determine what you need and when.
If you notice any of the following signs at your Winston-Salem, North Carolina home, we encourage you to give our team a call:
Significant dirt and buildup. Dust, dirt, pollen, and other pollutants in the air can settle on the outside of your home over time. If you see layers of dirt or a change in color on your exterior, it's time to call our team about house washing.
Discoloration or stains. If your siding has dark spots or lines, it may be caused by algae, mold, or other contaminants. No matter the reason for the discoloration or stain, our house washing team can improve the home's look by using the latest industry tools.
Peeling or faded paint. The sun, weather, and time can all cause paint to fade or peel. House washing can help remove loose paint and prepare the surface for repainting.
Pollen season. During pollen season in the spring, your house may get take on a hint of yellow or green color. House washing is a great way to keep your home looking clean and fresh during this time.
High humidity or rain: We get our fair share of humidity and rain, making it easy for algae and mold to grow on your home's exterior. When this happens, contact our house washing team to bring back your home's curb appeal.
Regular house washing reduces buildup and ensures your home retains its beauty and value over time. Contact our team if you're unsure when your home was last washed, and we can create a customized cleaning plan according to your needs.
Similar Services We Offer: