Make a great first impression with a professionally cleaned driveway.
If you're like many other homeowners in the Winston-Salem, North Carolina area, you likely take a lot of pride in your property. You probably enjoy coming home to a beautifully landscaped yard and a picture-perfect house, but one thing that might ruin an otherwise lovely property is a stained, worn-out driveway.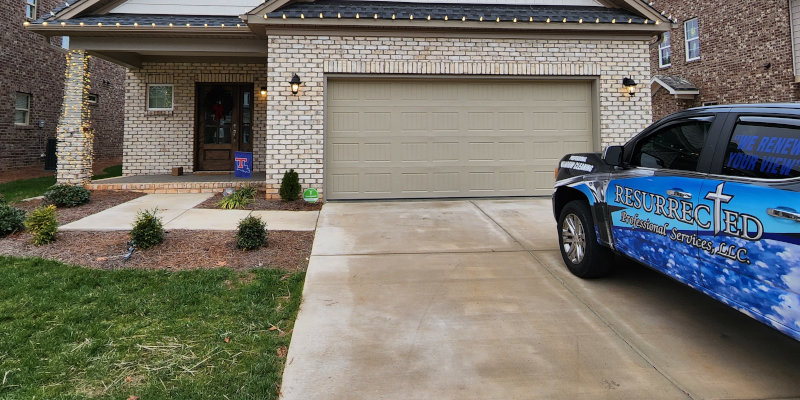 Depending on what kind of driveway you have, you may be dealing with discoloration, fading, stains, or other unsightly marks that store-bought cleaning supplies simply can't tackle. When you're tired of looking at a dirty driveway, you can give us a call here at Resurrected Professional Services to schedule driveway cleaning services.
If you choose to work with our professional team, you won't simply get a guy with a truck and a pressure washer. Instead, you'll be greeted by a highly experienced cleaning technician who will carefully assess the type of driveway you have and the condition it's in before selecting the best cleaning solutions for the job. We are thoroughly trained in both pressure washing and soft washing methods, so we'll take care to choose the best method for your situation and ensure your driveway is restored to like-new condition.
Although some homeowners attempt driveway cleaning on their own by renting a pressure washer, we would recommend against this. Pressure washing is only meant for highly durable surfaces, such as concrete, as it can easily damage more delicate materials. Furthermore, even if your driveway can withstand the rigors of pressure washing, you may not get the results you are hoping for on your own. Professionals know the right tools and methods to get the best results every time.
Don't wait any longer to dramatically improve your home's curb appeal. Give us a call today to schedule your driveway cleaning service.